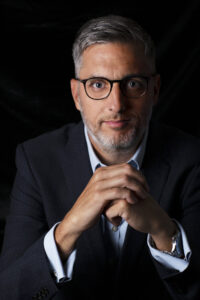 James Heale is a leadership expert with a track record of success at providing one-to-one executive coaching and personalised leadership development programmes to ambitious individuals and organisations. James's breadth of experience and passion for sharing best practice, drawing on the education system and beyond, has made him a sought-after figure amongst education trusts, schools and high performing organisations that are focused on achieving success.
James established Flywheel Learning in 2017, following six, successful years as Headteacher of Vyners School and Executive Headteacher of the Vanguard Learning Trust in West London. Now, he serves as Director of Leadership and Development for Tower Hamlets Education Partnership, supporting nearly one hundred East London schools operating in one of the most diverse and deprived boroughs in the country. From 2018-2022, James was also Strategic Lead for the School of PiXL leadership, designing and delivering virtual and face to face leadership programmes for member schools across Great Britain and Northern Ireland.
James's executive coaching and leadership development programmes, delivered in person and online, are in demand from senior teams and individuals. He is retained by Trusts and schools all over the country from as far afield as Warrington, Leicester, Tunbridge Wells, London and East Anglia. James has also provided leadership training and development to The Football Association, NHS and to CEOs and senior executives of private organisations.
James is a TEDx speaker and has been a key contributor to national conferences, both as speaker and facilitator.
James' TEDx talk, 'The Courage to be Vulnerable – Lifting the Mask on Leadership', can be found here
Clients include: PiXL; Tower Hamlets Education Partnership; The Football Association; Emery Little Financial Planners; FP Advance; Eelah; SSAT; Dacorum Teaching Schools Alliance; Alban Academies Trust; Ridgeway Education Trust; Merchant Taylors' Oxfordshire Academy Trust; The Nene Education Trust; Waveney Valley Academies Trust; St John's Church School; Roman Fields; as well as many individual schools and leaders.